My Own Devices – available now in paperback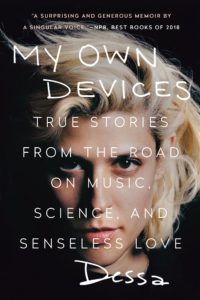 Order a copy here.
On August 27th, Dutton Books published the paperback edition of Dessa's collection of essays, My Own Devices. The paperback has a new cover, featuring Dessa's handwriting and a portrait by Sam Gehrke. If you're into the [book]club scene, you'll be interested to know that it includes a set of discussion questions at the end, 100% guaranteed to provoke thoughtful conversation amongst you and the gang.
ABOUT THE BOOK:
A stunning literary debut memoir from an artist who defies category. Dessa is an intellectual with an international rap career and an inhaler in her backpack; a creative writer fascinated by philosophy and behavioral science; and a funny, charismatic performer dogged by blue moods and heartache. Her writing stitches together poignant insights on love, science, and language–a demonstration of just how far the mind can travel while the body is on a six-hour ride to the next gig.